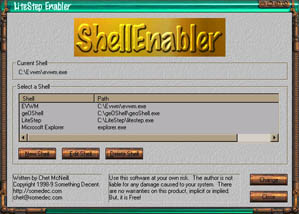 LiteStep Enabler has been updated and renamed to Shell Enabler, as it now is set up specifically to work with any number of shells simultaneously. See the screenshot to the right -- click it for a 100% view. If it looks a little different it's because I am using Window Blinds with the Ampulla skin.

For a great site dedicated to shells for Windows see floach.pimpin.net.

Alternatively, here are some links to some cool shells:
Usage
There is no installer. Simply unzip the application into the folder of your choice and run it!

The first time that it is run it will automatically add Microsoft Explorer to the list of shell choices. You can not alter or delete this shell entry.

Press the Add Shell button to add another shell choice to the list. ShellEnabler will fill in the name and path fields with your current configuration. Use the Browse button to find the shell application file (i.e. litestep.exe) and give the shell a name.

You can use the Edit Shell button to change an entry -- the shell name or path.

Of course the Delete Shell button removes a shell option from the list.

All shell data other than Microsoft Explorer are saved in shellenabler.dat, which is created in the same folder as the application. So if you later move shellenabler, make sure to move it's .dat file too!

To change shells, simply select one of the shells in the list and press the Change button. Log off and back on to enjoy the new shell.